MoreFun Studios Group, a subsidiary of Tencent Games, the world's leading game development, publishing and operations platform, has announced the Global Closed Beta Test (CBT) for Arena Breakout, the first-of-its-kind tactical extraction shooter for mobile devices, has launched today in Australia, Canada, Mexico, New Zealand, The Philippines, United Kingdom and United States.
Gamers in these regions can begin their campaign as soldiers of fortune and download Arena Breakout via Google Play Store or on the official website: www.arenabreakout.com.
A Lite version of Arena Breakout is also available to download on the official website to accommodate a broader range of mobile Android devices during this CBT period.
The Global Closed Beta Test will debut Arena Breakout's latest map, the Armory. This military compound's compact design will lead to more intense firefights and a dangerous new boss encounter adds to the thrilling experience of this new level – recommended for advanced players only!
All players who join the Arena Breakout Global Closed Beta Test will be treated to special rewards during this CBT event including:
Prime Trial Pass: Special login bonuses awarded daily
Safe Trial Pass: Safeguards any valuables inside from being lost if a player dies in battle.
Additionally, returning participants from the first Arena Breakout CBT will get a special "welcome back" package of 1,000 bonds and a Level 5 Gear pack.
The Arena Breakout Global Closed Beta Test will expand to Brazil, Indonesia and Japan on March 9, with an iOS Closed Beta Test to be announced in the near future.
In Arena Breakout, gamers play as fortune-seeking operators and rogues on raids in the Dark Zone with the freedom to fight however they desire. Eliminate adversaries head-on, with stealth, or bypass the bullets altogether, just remember what's most important: surviving the fight and getting out alive.
Each battle is a high-risk, winner-takes-all gamble. If you die on the battlefield, you lose everything you found and everything you've brought. Get out alive to keep all your cache and increase your stash and status. In addition, Arena Breakout's ultimate gunsmithing customization will allow players to build and modify ultra-realistic firearms with over 700 accessories. Arena Breakout delivers a new level of immersion to the tactical mobile FPS genre.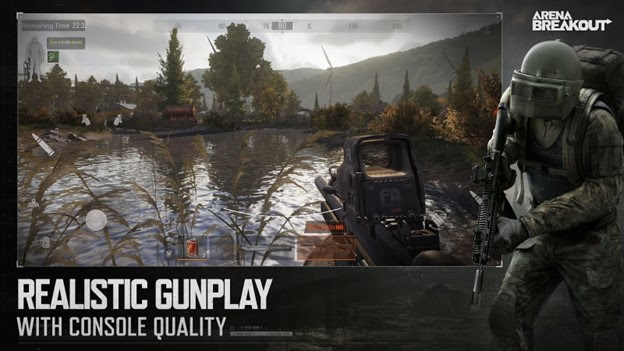 Arena Breakout will be launching globally on Android and iOS mobile devices later this year. For more information on the game and to sign-up for the Global Closed Beta Test, please visit the official Arena Breakout website.