Congratulazioni stimato dipendente, sei stato nominato dipendente del mese di Kindred Aerospace. La tua ricompensa è… no, non una promozione, ma l'uscita del pluripremiato gioco di esplorazione fantascientifica Journey to the Savage Planet: Employee of the Month Edition (pubblicato e 505 Games e sviluppato da Raccoon Logic) su PlayStation 5 e Xbox Series X|S, martedì 14 febbraio.
Stimato dipendente, il tuo viaggio verso ARY-26, come parte del programma Pioneer, è ora ancora migliore (migliorare la perfezione è stato difficile!) con succosi contenuti scaricabili, nuove pubblicità, chat bonus con Martin Tweed e una modalità foto migliorata! Il gioco è ora completamente ottimizzato per le nuove console e presenta l'opzione "Performance vs. Graphics". Onestamente te lo meriti a malapena, ma sei il benvenuto. Ti daremo un momento per riprenderti e digerire quella fantastica notizia.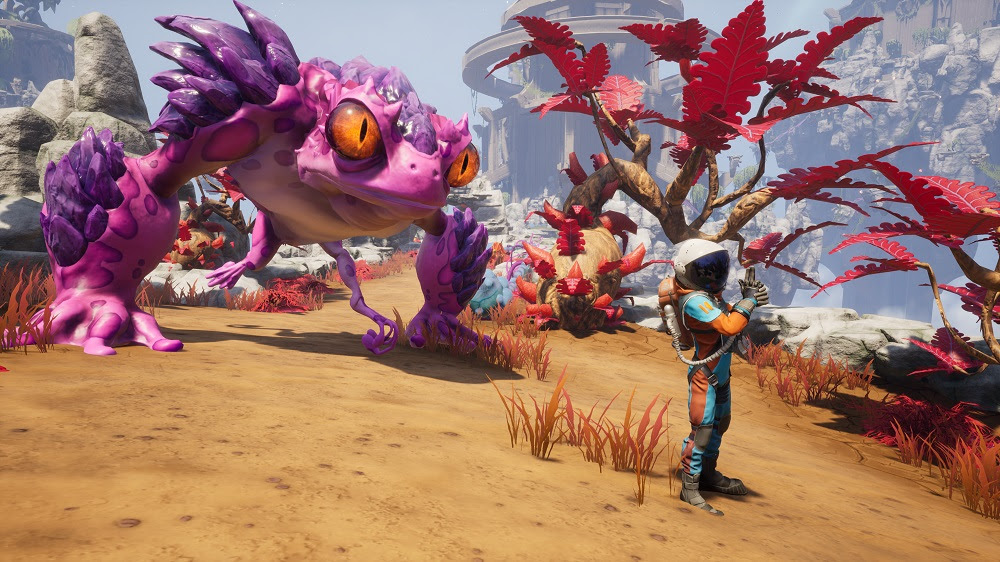 Digerito? Bene. Esplora i pianeti ARY-26 e DL-C1 con il supporto fino a 4K (nativo o upscaling) su PlayStation 5 e Xbox Series X/S. E se hai già acquistato il gioco, riceverai l'aggiornamento gratuitamente!
Come forse già saprai, Kindred Aerospace deve determinare l'abitabilità del pianeta ARY-26. I dati suggeriscono che l'atmosfera del pianeta potrebbe avere proprietà allucinogene, ma come sai siamo contrari alle droghe. Scopri la flora e la fauna sconosciuta del pianeta e documenta le bizzarre forme di vita che i nostri ricercatori hanno classificato scientificamente come "schifose". Conduci ricerche con gli strumenti standard del mestiere: pistole laser, bombe, acido e altri esplosivi o utilizza le risorse che troverai su ARY-26 per creare strumenti, utilizzando la tecnologia di stampa 3D. Ricorda solo che nel tuo contratto di lavoro non è non inclusa l'assicurazione sanitaria. Se muori, è colpa tua, stimato dipendente.
"Abbiamo subito un'acquisizione, siamo stati licenziati, abbiamo formato una nuova società e riacquistato la nostra proprietà intellettuale e in qualche modo l'Edizione Employee of the Month del nostro gioco stravagante sta finalmente arrivando sulle nuove console", ha dichiarato Alex Hutchinson, Direttore Creativo di Raccoon Logic, piangendo solo un po'. "Grazie a tutti coloro che ci hanno supportato, in particolare a te, stimato dipendente, sei il mio preferito qualunque sia il tuo nome".
I dipendenti di Kindred Aerospace che già possiedono Journey to the Savage Planet riceveranno gratuitamente l'aggiornamento Journey to the Savage Planet: Employee of the Month Edition. Le nuove reclute potranno invece acquistare questa edizione del gioco a 29,99€ per PlayStation 5 e Xbox Series X|S da martedì 14 febbraio 2023.